his website will inspire you to
wander
& learn
. I'm a Harvard MBA who left the tech world in 2006 to pursue a more fulfilling
mission
: visit every country in the world and share their unique lessons with whoever gives a crap.
First-time visitors:

start with

the best articles!
I've written Hike Your Own Hike: 7 Life Lessons from Backpacking Across America. I've walked across America four times and visited over 80 countries. I'm the first guy to yo-yo the Continental Divide Trail. I also thru-hiked the Pacific Crest Trail and Appalachian Trail southbound. I've walked across Spain twice. In 2008-2011, I traveled in Eastern Europe and wrote my second book, The Hidden Europe: What Eastern Europeans Can Teach Us. I'm currently on a 4-year trip to visit all 54 countries in Africa. Find out where I am now!
Francis has been covered on...
The Hidden Europe book trailer
Francis Tapon's "Dream of Traveling the World" video
Europe is the safest continent you can travel in, which explains why it is also the most popular tourist destination in the world. However, even in tourism paradise things can go wrong. Here's what to consider.
Cycling safety
In the opening of The Hidden Europe: What Eastern Europeans Can Teach Us, I praise Finland for its biker-friendly environment (you can download the chapter for free and read it for yourself).
However, while I was right that Finland is wonderful for biker safety, it's the Central/Eastern European countries that are the best overall.
Biking across Europe is fun. I've even recommended biking across El Camino de Santiago in Spain. However, you still might want get insurance for your bike and health insurance too. And buy a really good lock because bike theft is rife.
Last Updated on Friday, 24 July 2015 09:44
Read more... [5 Safety Precautions to Consider Before Travelling in Europe]
Today I just released the pilot episode of The Unseen Africa! This Kickstarter funded project is about Morocco. The DVD and Blu-Ray is available today at my shop. You can't get it anywhere else.
To celebrate the availabilty of the 44-minute commercial-free episode, we're having a guest post by Clinton J. Wilson, who shares his misadventures in Morocco. He writes for Goway.com travel.
Here's Clinton...
Misadventures in Morocco
I wasn't really shocked to learn my friend had lost his passport somewhere along the desolate stretch of road leading us to our isolated hotel in the Sahara.
Somehow this seemed to be the logical development in the plot of our Moroccan vacation. It was right out of a Paul Bowles story. Our doom was imminent. It wouldn't be long now before murderous Berbers would usher us into a small room and rob us of all of our remaining possessions before hacking us to death and burying us out in the sand. No one in the world would ever be able to trace us.
The End.
But I guess I felt I had too much to live for. I couldn't waste my energy thinking about my friend, for I'd already given him up to the vindictive natural forces of the African desert. He had a fever, and was now missing his passport; I had to conserve my strength. There was the next day's camel ride at dawn. I was going to have my "Lawrence of Arabia" photo op if it killed me.
Last Updated on Monday, 06 July 2015 20:51
Read more... [Road to Morocco]
Iceland is the only European country that I have not visited.
Technically, only about half of the country is in Europe, as it exists right in the middle of the tectonic plate that divides Europe and North America.
Because it lives on a crack in the earth, an astounding amount of geological activity takes place there. Erupting olcanoes, boiling hot springs, and soaring mountains litter the landscape.
I can't wait to visit it one day. My dream is to walk across it like my friend Jonathan Ley did.
Since I know little about Iceland, I accepted this article written by Allison Turner.
Interesting Facts About Icelanders
All countries and cultures have their own unique quirks, it just seems Iceland has a few more of these quirks than other places. The key to this charming strangeness comes from the people that inhabit the land itself, the native Icelanders. Here are four interesting facts that you may not have known about Icelanders.
Surnames Do Not Exist
The majority of Icelanders (save for a few family names left from foreigners marrying into an Icelandic family) do not have a surname, which is why they call everyone by their first name. The last name is made from their father's or mother's first name with the addition of daughter or son. That also means that women keep their last names when they get married.
Last Updated on Monday, 29 June 2015 06:44
Read more... [Interesting Facts About Icelanders]
This sponsored post was written by Lance Sprewell
Lanzarote is well known for its beaches and bars, but there's much more to the island than this. With its otherworldly landscapes, beautiful towns and fascinating art and architecture, this sun soaked vacation spot has plenty to offer the discerning traveller.
César Manrique Foundation
If you book flights to Lanzarote and want to discover the beating heart of the island,make your way to the César Manrique Foundation. During his life, this architect, artist and environmentalist helped to shape the look and feel of
Lanzarote, and his unusual constructions dot the island, adding to its unique character. Based at the artist's former studio and home in Taro de Tahiche, the foundation is one of the island's most impressive sights. With its playful use of colours and shapes, it manages to look both retro and modern at the same time. As well as his own artworks, the building showcases sketches by Miró and Picasso.
Timanfaya National Park
Be sure to add the Timanfaya National Park to your sightseeing itinerary too. Given its status in 1968, this large area is home to over 100 volcanoes, which rose up from the ground in the 18th century to create a Martian-like landscape. As well as its fascinating rock formations, the park contains a variety of rare plant species.
Last Updated on Saturday, 27 June 2015 12:58
Read more... [Step Off The Tourist Trail in Lanzarote]
Many of those who have just heard my national radio interview with Rick Steves want to know how to book their own African safari or mountain climb.
Others want to see my report on my East African adventures. I will do that by March 2015, but for now, because I have computer problems, I want to just quickly answer the first question.
Recommended Tanzanian Safari Guide: AAAfrica.net
Augustine (the man on the right) has 20 years of guiding people (mostly Americans) throughout Tanzania (especially around the Arusha region).
You won't find a more experienced, friendly, and professional guiding company than Augustine's Adventure Africa. They have the vehicles and the knowledge to entertain and inform you about the wonders of the Seregeti, the Ngorongoro Conservation Area, and far beyond.
I mentioned him on the Rick Steves show, and I stand 100% behind my recommendation. You can find a cheaper guide, but Augustine runs a top class operation that is worth every penny.
Recommended Mount Kilimanjaro and Mount Meru guides: AfricaZoom
Just like AAAFrica.net is a class act for safaris, AfricanZoom is the best outfitter to take you to the roof of Africa.
What makes them special isn't just the professional service, knowledgable guides, and friendly attitude, but it's also their inspiring leadership.
Maggie Samson founded the company and is the only woman who has climbed all 8 routes up Kilimanjaro.
It's hard to find anyone who has done that.
It's extremely unusual in the male-dominated guiding business in Tanzania.
Moreover, she is a member of an organization that looks after the welfare of guides and porters, who are often mistreated by unprofessional trekking companies.
Therefore, if you'd like to climb Africa's tallest mountain, you should consider AfricanZoom.
Lastly, both companies go into each other specialties. For example, AfricanZoom leads safaris and AAAfrica.net leads mountain climbs.
Although I'm sure they are both competent, I would advise sticking with their specialities. You can't lose!
Uganda guides
Finally, I also mentioned Gane and Marshall, who are the best guides for Uganda.
Last Updated on Monday, 05 January 2015 05:40
Yahoo Travel asked for my opinion on the 2014 Ebola Outbreak. Here's what I told them. I've updated this in Sept 20, 2014.
First some background on me:
Should You Be Afraid of Ebola?
The outbreak does give me pause, but only for about 5 seconds. It's easy to get excited about this outbreak, but it's important to have perspective:
Over 2,500 people have died of Ebola during 2014 in Sierra Leone, Guinea, and Liberia.
Annual auto fatalities in Guinea (1,956), Sierra Leone (1,323), Liberia (760) total 4,039.
Therefore, the average person in those three countries is more likely to die in a traffic related accident than by Ebola.
Yet, almost nobody in those countries wear a seat belts (many cars don't even have working seat belts).
So if we want to save the most African lives, why don't their governments mandate wearing seat belts and improving their road conditions?
Nobody will worry about me going to Eritrea because it's on Africa's east coast (far from the outbreak). However, according to the WHO, Eritrea has the worst road fatality rate in the world (12 times worse than the UK and twice as deadly as Liberia). In other words, if I go to Eritrea, I'm more likely to die in car accident than to die of Ebola in Liberia.
Another way of thinking about it: those three countries have 22 million people. "Only" 2,500 have died. Thus, Ebola has killed 0.01% of the population. Your chance of dying from Ebola when you are in one of those 3 African countries is one in 10,000. That's better odds than the lottery, but it won't make me lose sleep.

Remember that we're just looking at the 3 most affected countries. If you are in Nigeria, Senegal, or anywhere else on the planet, then you're far more likely to get hit by lightning.
In short, we need to keep a perspective. It's like people worrying about shark attacks or lightning strikes, yet they think nothing of driving 50 miles a day or smoking. They worry about flying, but not about driving.
Malaria vs. Ebola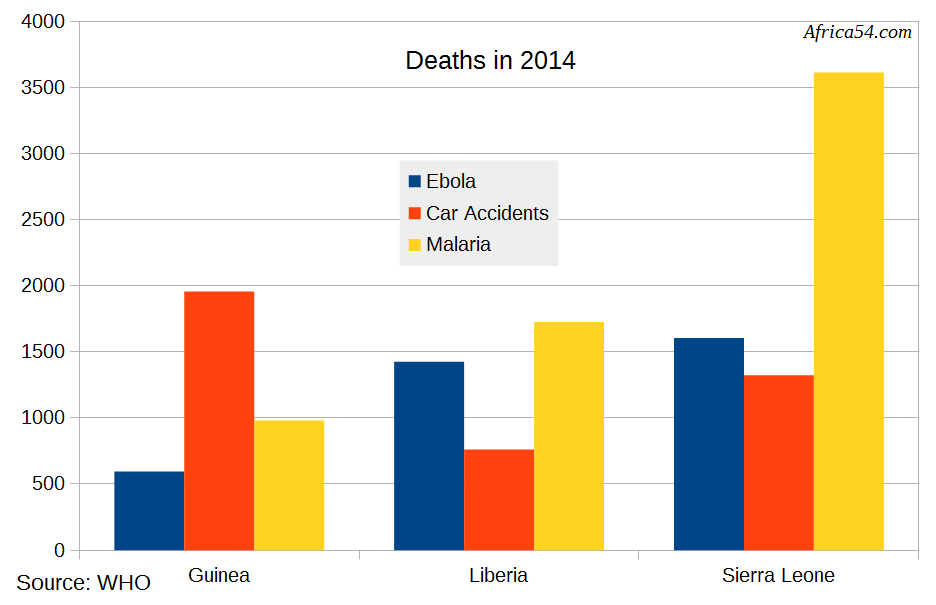 Malaria kills far more than Ebola.
According to the WHO
, here are the annual deaths due to Malaria in 2012: Guinea 979 + Sierra Leone 3,611 + Liberia 1,725 = 6,315!
That means more than twice as many people have died of malaria in those 3 countries than of Ebola.
Shouldn't that be the big news? Shouldn't we make a huge effort to stop malaria? Instead of spending $1 billion on giving everyone mosquito nets,
the WHO wants to spend it on Ebola
. Although malaria is not as contagious as Ebola, it is still contagious (a mosquito that bites an infected human and then bites a non-infected human will transmit the virus).
If Ebola regularly killed 4,000 people per year, we'd get used to that just like we are used to malaria killing 6,315 per year and auto fatalities killed 4,029 people per year. We can reduce all of these deaths if we encourage people to take preventative measures.
But Ebola is growing exponentially!
Yes, it's true (see the graph on the right).
However, the graph on the right also shows that only in Liberia is there true exponential growth.
Elsewhere, Ebola is flatlining, as victims are quarantined.
Yes, traffic accidents and malaria are not growing exponentially (their graphs would be similar to the linear growth that we see in Sierra Leone and Guinea). However, as the other graph above demonstrates, Ebola is not deadliest thing in those three countries.
It's tempting to continue drawing the exponential line of Liberia, but past performance doesn't indicate future results. Past outbreaks of Ebola had a similar slope at the onset. Each time we contained them and the graph came crashing down.
Of course, we need a bit of hysteria to spring people to action. However, the only people who really matter are the government officials and health care workers. The guy sitting in Benin or the USA has little to worry about.
Ebola's Fatality Rate Myth
The
BBC regularly reports
that Ebola's "fatality rate can reach 90%."
That's misleading. Yes, it can reach that high, but the average fatality rate is about 52%. That's still horrible, but it's not a guaranteed death sentence. If you catch and treat it early, you improve your odds.
On the other hand, when a leading doctor died of Ebola, I was discouraged. You'd think that he, of all people, would not only be carefully monitoring himself, but also that at the first signs of symptoms, he would treat himself aggressively. Yet he died.
My advice
Don't eat bush meat (or any meat, frankly).
Don't worry about visiting an Ebola-infected country.
If you do, consider wearing plastic gloves.
Either take anti-malarial medicine or always have the treatment for malaria with you.
Wear seat belt whenever possible.
Last Updated on Wednesday, 01 October 2014 14:11
The waters off Kwazulu-Natal coast in South Africa are more than generous to the avid spearo. Many spearfishing sites here have fabulous diving conditions all year round and waters teeming with gamefish action. Warm Agulhas and Mozambique currents sweep into this area of ocean from the east to meet a rich array of unspoilt marine life. And as spearfishing in this area is much less common than angling, productivity is plenteous.
Recommended Spearfishing Equipment for Spearfishing off the Kwazulu-Natal Coast
Kwazulu-Natal enjoys a sub-tropical climate with steamy summers and mild winters. Summer (November-May) water temperatures reach up to 24°C, dropping to 18°C in the winter (May-August).
Whether you're planning on diving offshore or from a boat then here's the recommended spearfishing equipment you'll need for the local conditions:
Last Updated on Wednesday, 06 August 2014 15:26
Read more... [Spearfishing off the Kwazulu-Natal Coast in South Africa]
Guest post by Amelia Verona
Three times the size of the United States, the continent of Africa is especially diverse. Trying to comprehend the hundreds of languages that are spoken will keep visitors/tourists occupied indefinitely. Accord this vast continent, there are 10 spots of interest worth singling out.
1. Luangwa River Valley
In southern Africa, Zambia offers guests one of the best natural life havens on the continent and likely the slightest went by The Luangwa River Valley is in eastern Zambia, hours far from the fringe of Malawi. The region is home to Luambe and North and South Luambe National Park. Untamed life in these districts is the same species discovered somewhere else on the continent. They include predators, for example, lions, panthers and cheetahs, groups of elephants, rhinos, hippopotamuses, mandrills, galagos, hyenas, wild canines, kudus, hartebeests, topis, aardvarks and crocodiles. Stops in the waterway valley range from comprehensive foundations to hike lodgings.
Last Updated on Monday, 04 August 2014 02:54
Read more... [10 Exciting Places in Africa]
If you do just one thing for me this year, please tell everyone you know (and a few you don't know) about
The Unseen Africa
Kickstarter Project
, which launches today, Africa Day (May 25)!
Below you'll find the Kickstarter video, its current fund raising status, and links to blogs that have covered the project.
Press Release
Man Traveling Nonstop to All 54 African Countries Over 4 Years
The Unseen Africa TV Series Announced on Africa Day on Kickstarter
May 25, 2014 - Agadez, Niger - To celebrate Africa Day adventure travel writer Francis Tapon is announcing the production of a new TV series called The Unseen Africa.

Tapon, who is traveling nonstop to all 54 African countries over four years, will host the show. In addition to capturing Africa's unseen parts, he plans to summit the tallest mountain of every African country.
Tapon said, "This ground-breaking travel TV series will reveal the sides of Africa that CNN and National Geographic never show."
The Unseen Africa
will move beyond the standard images of Africa (war, wildlife, poverty, and pyramids). Instead, it will capture the everyday life of Africans and also show how 21st century Africa is different than how most Westerners imagine it.
Tapon said, "Besides going to unseen parts in Kenya, Morocco, and South Africa, we will go to African countries that rarely appear on TV such as Benin, Guinea Bissau, and Comoros."
To make the show's pilot episode, Tapon has created
The Unseen Africa
Kickstarter project
, which aims to raise $20,000. The campaign launches May 25 and lasts 30 days.
Tapon started his African journey in Morocco and has spent the last year in West Africa. He plans to finish in North Africa in 2017. He has walked across America four times, written two travel books, and has visited nearly 100 countries.
Press Coverage of The Unseen Africa Kickstarter Project
Below is a list of the bloggers who have written about the project or where I've written a guest post. If you'd like to get on this list, write about the project and we'll add a link to your page!
Video and Audio podcasts
Bernie Wild at Practical Backpacking interviewed me. There's as bonus audio available about how you can finance your adventures.
Script Magazine highlighted us by featuring a 45-min video podcast that talks about the unseen parts about The Unseen Africa.
The Amateur Traveler's popular podcast discusses the Western Sahara and my journey there:
Extra Pack of Peanuts podcast:
Last Updated on Monday, 23 June 2014 06:54
Read more... [Kickstarter for The Unseen Africa TV Pilot Episode]
Guest Post: Tenerife's landscape creates perfect terrain for hiking with mountains, coastal paths, secluded villages and volcanic geology to offer. Hiking in Tenerife has long been popular amongst Europeans, yet you'll find plenty of seclusion as you explore some of the more remote parts of the island.
So get your walking boots on and find out about the best spots to get roaming on your Canary Island trip, with our guide to hiking holidays to Tenerife…
Last Updated on Sunday, 27 April 2014 05:08
Read more... [A First-Timer's Guide to Hiking in Tenerife]
Guest post by Rachel Jensen:
As the summer approaches and the temperature rises, festival season starts to creep up on us. There is no better way to make the most of the sunshine of the months between June and September than packing your shorts and sunglasses, and jetting off to one of Europe's many different festivals.
When people think about festivals, they are most likely to mention the well established ones like Glastonbury or the Isle of Wight Festivals. Whilst these are very popular, well trodden paths, there is a lot more to see!
We have gone and found those festivals that are off the beaten track. It's not just music festivals as well that we have found, there are a number of exciting and cultural events in countries like Germany, Italy and France, as well as unique festivals in the UK.
You might be travelling across the continent by car, train or even bike. No matter how you're getting about, there's no excuse not to take a detour and indulge in the festivities that a festival brings. The atmosphere, the food, the drink and the people, all gathered in unison with an aim - to enjoy themselves and have a good time!
You could choose to stay in Britain and don your wellies, before dodging the English summer rain, wading your way through the mud. But with travel relatively cheap and efficient these days, you could be rubbing shoulders with festival goers in cities, towns and fields across Europe in a matter of hours. So, without further ado, here are nine wonderfully different European festival options for 2014!
1. The EXIT Festival
Young Serbians just wanted to exit out of Yugoslavia's civil war, so they created the EXIT Festival to do that. Today, it's one of Europe's biggest summer bashes.
2. The Garden Festival
Eastern Europe is becoming an increasingly popular travel destination, and Croatia is no exception. The Garden Festival takes place in the stunning coastal town of Tisno and is now in its ninth year. This year the electronic music event takes place between the 2-9th of July and is blessed by its location on the shores of the crystal clear Adriatic sea. The glorious sunshine in the daytime is mirrored by cooler evenings, but one thing's certain, the party never stops!
There is boutique accommodation available for all, including villas and glamping facilities. There are boat rides available and the soundtrack for the week comes from a plethora of underground house and techno DJ's such as Craig Richards, Leon Vincent and Axel Boman.
And if you don't want to leave (and who would) the Garden Festival is followed immediately by the Electric Elephant festival. EE is another similar music festival, and another reason to kick back and enjoy the summer sun in Europe.
3. Festival of Cycling
If you're looking for a festival idea which is a little closer to home, you could head to the Festival of Cycling, which coincides with the Tour de France.
From the 4th - 6th July, Harewood House, which is North of Leeds, will be turned into an all out cycling fanfare. There is room for camping, and festival goers can enjoy lots of live music throughout the weekend! There will be a purpose built cycling circuit so all visitors can get in on the act themselves, even challenging Olympic medalists the Brownlee brothers in a time trial.
4. San Fermin
Each year, the town of Pamplona in Spain turns into one non-stop fiesta. Pamplona is world famous thanks to these fiestas and is most well known for the running of the bulls, which was immortalised in Ernest Hemingway's novel The Sun Also Rises. This year, San Fermin begins at midday on the 6th of July, everyone in the city dons red and white clothing and the fun commences. The Bull Run is something everyone has heard of, and is an event that we should all go and see! The historic town of Pamplona is beautiful all year round, but the chance to visit during the fiesta should not be turned down.
5. I'Primi D'Italia
If food is more your thing, you might want to try out the I'Primi D'Italia 2014. Throughout the event, you can wander about and taste all the delights that Italian food has to offer. The market in Piazza Della Repubblica is a hive of activity during the three day festival which runs between the 25th and 28th of September this year. You can travel by train to Perugia.
6. Wife Carrying World Championship
Now for something a little different. If you happen to be in Sonkajarvi region of Finland between the 4th - 5th July this year, you should head to the world famous Wife Carrying World Championships. The event started in 2014, and is deeply rooted in the local history of the area. The aim is to carry your wife (if she's over 49kg) over a course of exactly 253.5 meters and the competition has been won by Taisto Miettinen during the last five years. You might even want to enter yourself into the competition!
7. Jazz in Marciac
If Jazz is more your thing, head to the Jazz in Marciac festival which takes place over a three week period in the town of Marciac in southwestern France. This year it is happening between the 25th of July and the 10th of August. Over the years, the event has become a model for rural development centered on a cultural happening. Each year there is a fusion of jazz legends and up and coming talent who take to the stage through both the day and night.
8. Oktoberfest
If you are after something a little louder, you could head to the Oktoberfest in Germany. The event is held annually in Munich, the 16-day celebration has been held since 1810 and is an important part of Bavarian culture. Each year, the event runs from late September through to the first weekend in October and more than six million people attend from all across the world. If you fancy a winter break, you could choose to be one of them!
Oktoberfest is amazing because all the beer that is served is local to the Bavaria area. All of the lager must meet a certain strict criteria of being brewed within the city limits of Munich.
9. Outlook Festival
We started this list in the Balkans, we're going to end there. The Outlook Festival happens in Croatia [which Croatians don't think is the Balkans].
We hope you have enjoyed our brief guide to nine different festivals of Europe, but have we missed anything out? Let us know if you have any festival travel plans this year?
This guest post was written by Rachel Jensen for Cruise Nation, the cruise specialists.
Last Updated on Friday, 23 May 2014 04:28
<<

Start

<

Prev

1

2 3 4 5 6 7 8 9 10 Next > End >>